French and Indian, Revolutionary War, 1812, Tinware, Tin Ware, Utensils, Boxes and Cans
---
C & D Jarnagin Company

The Tin Shop
Utensils and Boxes & Cans
---
Our tin shop is world-famous for its quality and craftsmanship. In addition to canteens and cartridge box tins, we have a nice variety of other handcrafted products. These items are all hand-made here by experts.

The craft of the tinsmith (or tinker) is fast disappearing. Many of the these items are hand worked, hand soldered, and riveted - true to the tinner's art of the past. We do make the concession of using lead-free solder on the joints of items which may be used for food and drink.

Lead free solder is used for food and drink. Lead free sholder has a lower melting point; therefore, it is important to keep items 1/2 full of liquid when cooking over a campfire.
---



Utensils

#443 19th Century Fork & Knife Set $11.75

This set is made of carbon steel with wooden handles. Hand assembled in pewter mounting. They are copied from originals in our
collection. These high-quality items are quite modestly priced.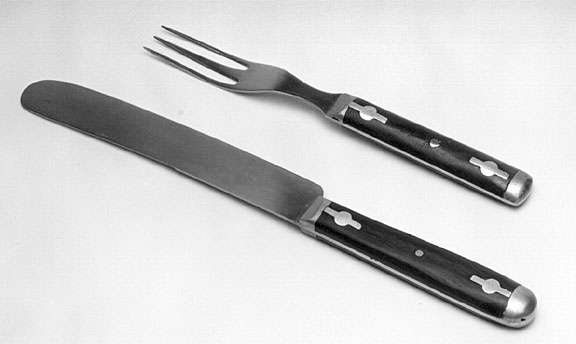 ---
#308RW Small Tin Dipper $34.43
We found the original of this dipper on a trip to Kentucky. It was so attractive that a replica was a must. We use ours for 18th Century living history. It has become one of the most valuable cooking tools we have. Handle is 6" long and ladle is 2 1/2" in diameter.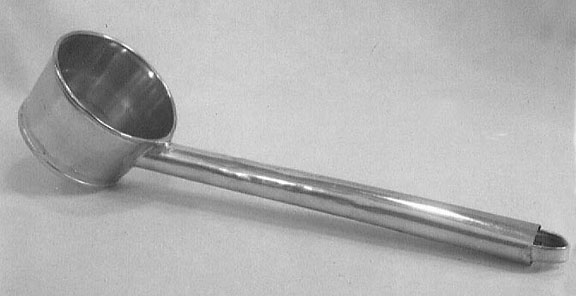 ---
#308RWLG Large Tin Dipper $49.95
As above #308RW, only larger. Handle is 11 1/2" long and ladle is 4 1/2" in diameter.



---
Tin Boxes and Cans
#442RW Round Cork-Top Oil Can $13.84
Your choice of Small (3/4"), Medium (2"), or large (2 3/4").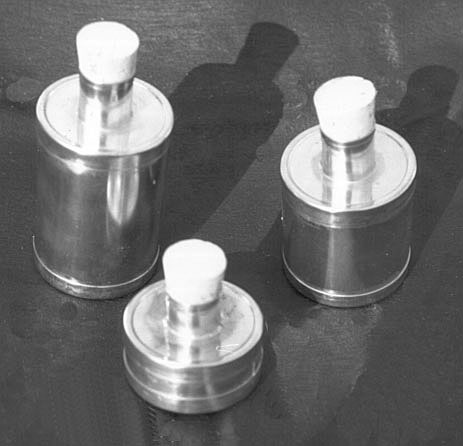 ---
#312RW Oval Tin Box $52.65
This is a box exhibiting 18th century period workmanship. It makes a good box for flint & stricker. It is 4 1/2" long and 2 1/2" wide with a hinged lid.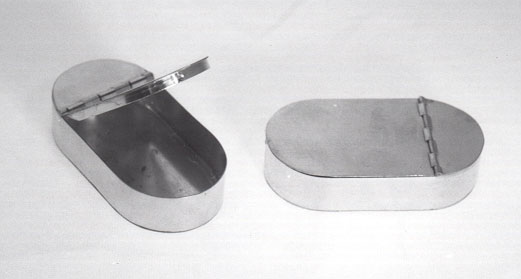 ---
#RW316 Eye Glass Case $60.75
Hand made here in our shops. Inside is lined in wool to keep glasses from being scratched. The outside is painted black.
#RW313 Oval Tin Box with Removable Lid $40.50
Painted black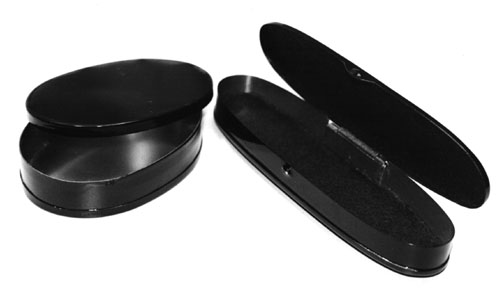 ---
#441 Nesting Tin Cans (Set of Three) $32.00
Three tin cans with one end left so that it may be removed. You may decorate these with period labels. Anyone who have ever used a metal detector in Civil War campsites can attest to the tremendous number of tin cans found. They are suitable for displays. Sized so they nest together for storage.

Large: 3 1/8" in diameter x 3 1/2"high, Mid: 2 1/2" diameter X 3" high, and Small: 2" diameter X 2 1/2" high.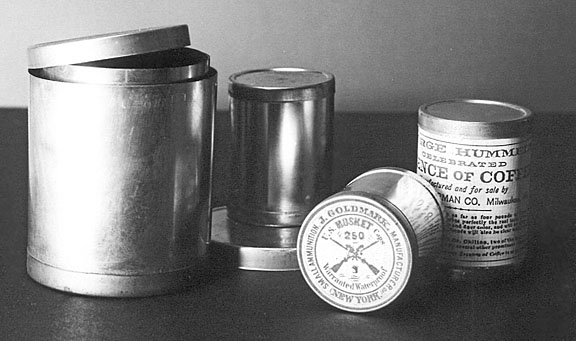 #441 Nesting Tin Can is pictured on the far left
---
We offer other catalogs:
On line French & Indian,
Revolutionary Period & War of 1812
To place an order ...Click Here!

*Check on the Status of your order HERE.
Phone (662) 287-4977 * Fax (662) 287-6033
Mail:
--or -- UPS: 518 Wick Street, Corinth, MS 38834
---
Happy Reenacting!

©1997-2011 All Rights Reserved and Owned by C&D Jarnagin Co., Inc.