Civil War, Tin ware, cup, drinking cups, covered cups, pots, mucket, cooking pot, coffee pot, tea pot, tin plate, frying pan, basin, wash basin.
C & D Jarnagin Company

---
The Tin Shop
Cups, Cookware, and Plates
---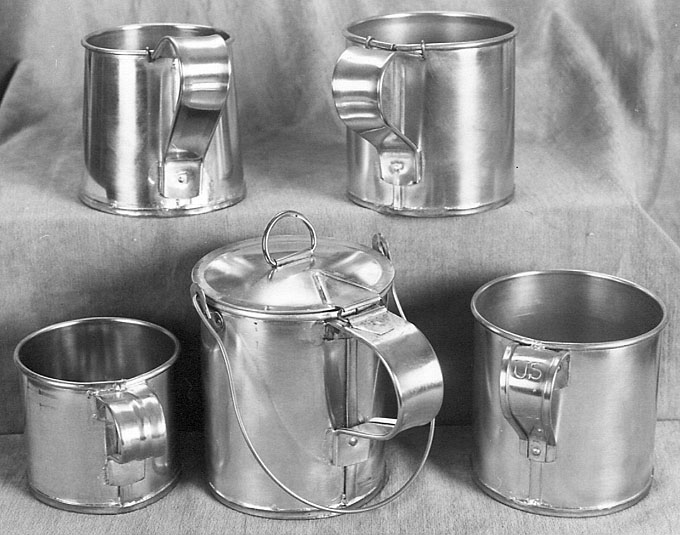 Pictured from left to right. Top: #414 Early Cup and #415 US Regulation Cup. Bottom: #413 Civilian Cup, #417 "Billie Cup", and
#420 Indian War Cup with US Handle.

Our tin shop is world-famous for its quality and craftsmanship. In addition to canteens and cartridge box tins, we have a nice variety of other handcrafted products. These items are all hand-made here by experts.

The craft of the tinsmith (or tinker) is fast disappearing. Many of the these items are hand worked, hand soldered, and riveted - true to the tinner's art of the past. We do make the concession of using lead-free solder on the joints of items which may be used for food and drink.

Lead free solder is used for food and drink. Lead free sholder has a lower melting point; therefore, it is important to keep items 1/2 full of liquid when cooking over a campfire.
---
Cups
#413 Small Civilian Cup $32.50
This is a heavy-duty cup, smaller than the Army issue cups, made because so many have asked for it.

3 1/2 inch high. Holds approx. 12oz.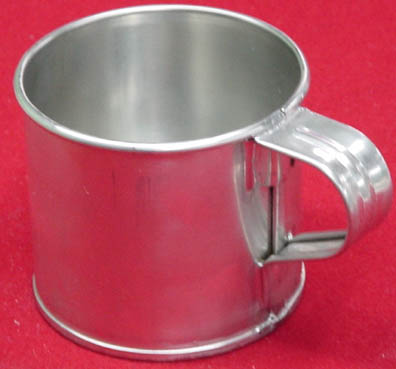 ---
#414 Early Army Cup (to 1851) $44.00
Best quality. These cups are made of very heavy material. The top edge is wired; the handle is wired to the top and riveted to the bottom. This was the soldier's best friend. It was often used to boil coffee or make a stew. These tapered cups in one type or another go back to the beginning of tinware. Used by the US Army until 1851.

4 inch base, 3 3/4 inch high. Holds approx. 16oz.
---
#415 Regulation Army Cup (M1851) $34.75
Best quality. Originals of these cups are hard to come by nowadays. Probably millions were made, but they were so useful that they have been utilized to extinction. This was the most important article of mess gear the soldier had. If you are really a collector, you should certainly have one of these.

This is what the "coffee boilers" of the Civil War used, 4 1/2" Diameter x 4 1/4 inches Tall. Holds approx. 24oz.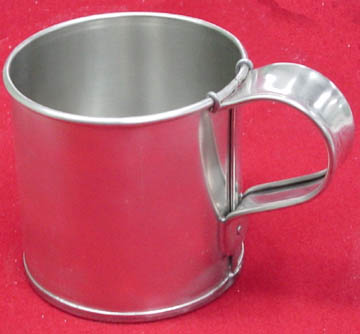 ---
#416 Miscellaneous Tin Cup $34.75
These are made in lots of 15 to 20 from examples viewed in museums or in popular publications depicting artifacts. There is a great need in living history for a representation of the tremendous variety of cups used in the 1800s. These are not made to cook in, although they will boil water if they are kept full and you are careful. They vary roughly between the size of the small cup (3413) and the Army cup (#415). Some have rings pressed into the body. There will generally be no choice in ordering these cups. You will have to take what we have at the time. They are hand crafted here in our shops and will certainly be worth the price.

---
#420 Army Cup with "US" stamped into Handle $48.25
Indian Wars to Spanish - American War period. This is the last traditional tin cup to be used by the Army. Next came the canteen cups of WWI. Heavy construction with wired edge and riveted handle. 4 inches x 4 inches. Holds 24 oz.
---
#418 Army Cup (1851) with Bail Handle ("Field Modification") $37.50
In order to facilitate its use as a small cook pot, the soldier often put a wire handle on his Army cup in the field. We will do this for you, if you request it.
4 inches x 4 inches. Each holds 24 oz.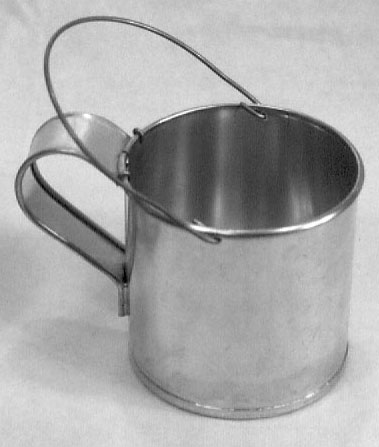 ---
#419 Army Cup (1851) with Bail Handle (Original Manufacture) $39.50
The Museum of the Confederacy in Richmond has a cup without a top but with bail tabs and a bail which were placed on it at the time of manufacture. 4 inches x 4 inches. Each holds 24 oz.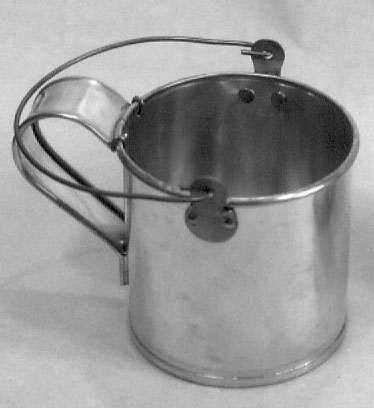 ---
#417 Coffee Boiler Covered Cup ("Billie Cup") $67.25
These cups are slightly taller than the Army Cup and have a domed lid which is both soldered and riveted to the cup. They have a lift ring on the top and a bail handle for use on the cook fire. All soldered tinware should be over half full of liquid when placed on the fire, an it should be removed when the liquid boils. To simmer, set at the edge of the fire. This is one of the most popular products we make. 4 inches x 5 ¼ inches. Holds 24oz.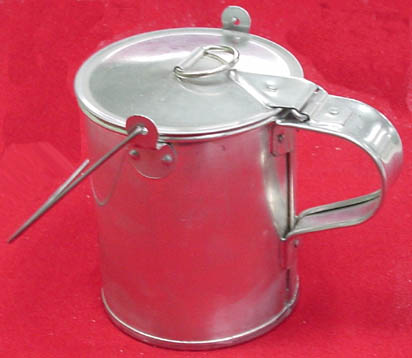 ---
Cookware
New Item
#428 Small Coffee Pot $80.75
We have changed the model for our small coffee pot. The item is hand-crafted from an original coffee pot in our collection. Heavy construction. Lead free soldered inner joints with a hinged lid. Domed top with a wooden knob on the lid.

The bottom is 5 1/2" in diameter tapering out to 4 1/4" top diameter and is 7" tall. Holds 2 1/2 Regulation Cups.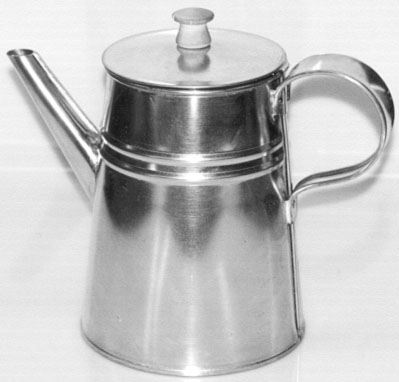 ---
New Item
#MED428 Medium Coffee Pot $88.50
We are now offering a medium size coffee pot. This item is hand crafted from an original loaned to us from a private collection. Heavy construction. Lead free soldered inner joints with a bail handle and removable lid. Domed top with a wooden knob on the lid.

The bottom is 7 3/4" in diameter tapering to 5 1/2" top diameter and is 7 1/4" tall. Holds 4 Regulation Cups.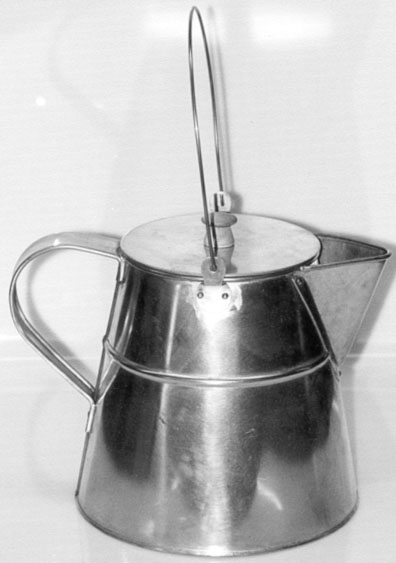 ---
#429 Large Coffee Pot $98.50
Way back in 1977 while using the metal detector in General Rosecrans' camps (prior to the Battle of Iuka), we found one camp site with a variety of tin ware intact, including this issue style coffee pot. By this time, it must be the most famous coffee pot of the Civil War. These are hand crafted here in our shop. The top of the pot, the spout, and the handle are wired. All parts are riveted and soldered with lead free solder on the contact surfaces.

8 1/2 inches x 9 inches high. Holds 7 1/2 Regulation Cups.
---
#NI450 Company Coffee Pot $129.25
As pictured in Rebels and Yanks The Fighting Men Of The Civil War. Page 136 Union Camp Artifacts.

Holds approx. 2 gallons. Bottom diameter 12 1/2", Top diameter 6" and Height is 10 1/2".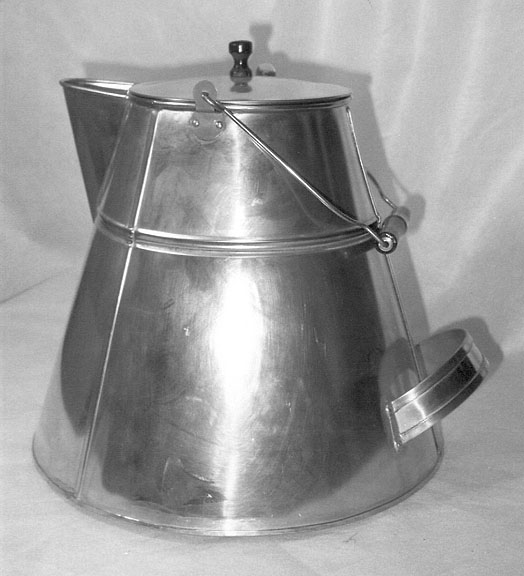 ---
#421 Small Camp Pot $65.75
As seen in photographs and taken from an original example, this small pot is another of those items which saw service both in civilian life and in the military. Our example has a domed lid and a wire bail. Good for one or two man soups and stews. By tying the lid down, food and other goods can be carried in these pots suspended beneath a knapsack.

6 inches x 4 3/4 inches high. Holds approx. 64oz.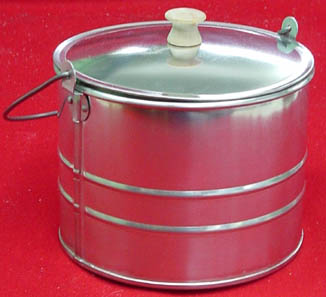 ---
#422 Large Camp Pot $73.75
More often seen in photos than the smaller one (#421), this is essentially the same pot except it is taller, with correspondingly greater capacity.

Has domed lid with a bail handle. 6 1/4" X 8 1/4" Ht. Holds approx. 96oz.

---
#426 Mucket (If you are looking for a "Billie Cup" see #417) $81.00
This is a pot with a hinged cover, a handle, and a heavy wire bail to hang over the fire. It appears to be a large covered cup - hence, the name "Mucket" . . . is it a mug or a bucket? It is used to draw cooked rations, to cook rations in, to carry water, and to wash out your socks. It is best carried on the march by suspending from one of the knapsack straps. It is the "every pot" for the camp. Examples may be seen in Dr. Lord's books.

Has wired edges and features a domed lid. 6 1/4 inches x 8 1/4 inches high. Holds approx. 96oz.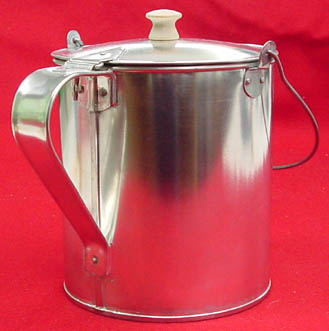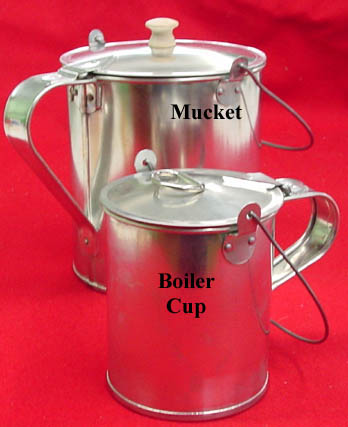 ---
#423 Cold Handle Sauce Pan $102.50
This is just a common sauce pan of the period. The handle is hollow to promote cooling and to facilitate the use of a wooden insert (tree branch) for cooking over open fires. Comes with a domed lid. From an original in our collection.

6 1/4 inches x 4 inches high.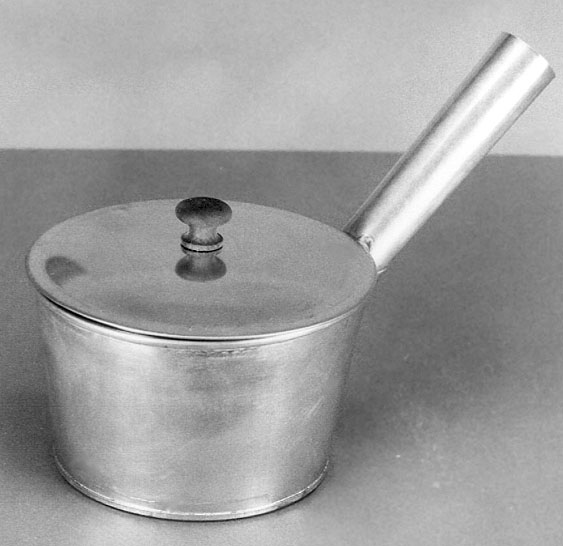 ---
#427 Camp Basin $83.75
These heavy tin basins are common finds for metal detectors in Civil War campsites. From original dug in camp of Rosecran's Division, Southeast of Corinth. They are useful for everything from cooking to washing socks. Top edge is fully wired.

12 inches x 5 1/4 inches high.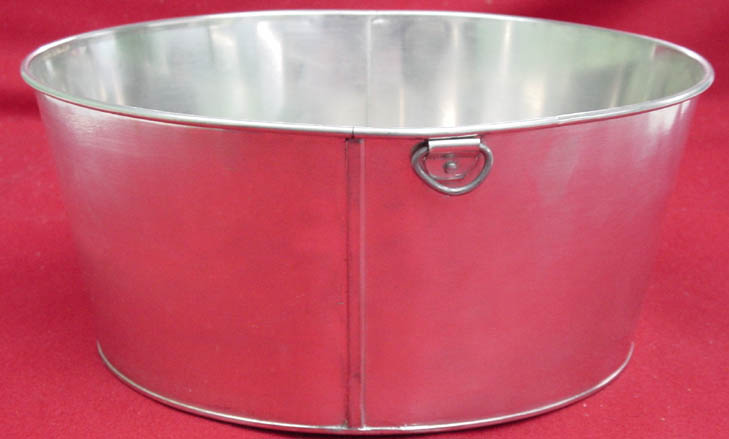 ---
#431 Sheet Iron Frying Pan $48.75
This heavy sheet iron frying pan is the best in the business. It has an iron handle riveted on. The weight of the metal is sufficient to give the good heat dispersion needed to cook food rather than burn it. There is no hint of the modern in this item. 9 inches in diameter with a 10 inch handle.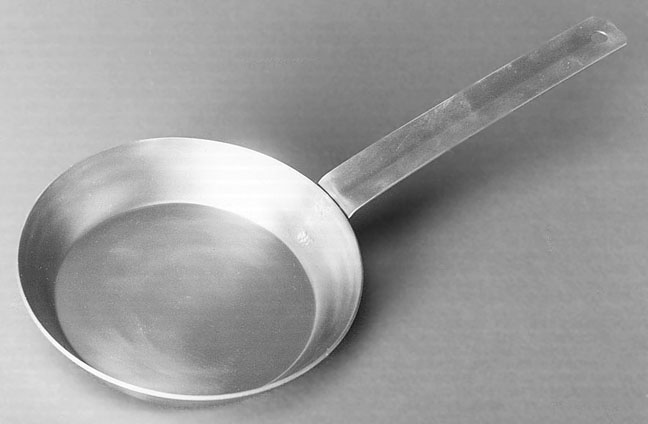 ---
#438 Tin Pail or "Bucket" $74.25
Certainly one of the most common items found everywhere was the tin bucket. This one is hand-made of heavy construction and
will give long service. Historic farms and homes, as well as living historians, have limitless uses for a bucket. The sort of thing
one might steal from a farmer. Useful for keeping water in camp as well as getting it there.

Top diameter 9" tapering to bottom diameter to 6 1/2" Ht. 9 3/4". Holds approx. 2 gallons.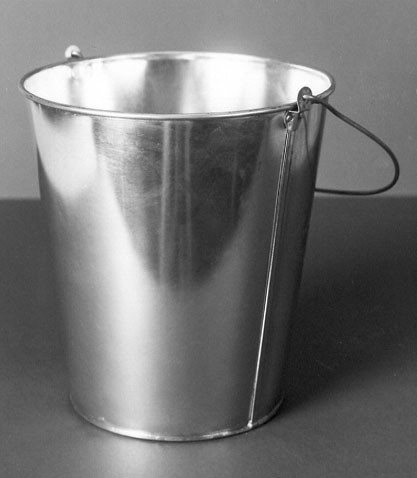 ---
#430 Tea Pot $108.00
With small wire-handled cup inside. This quaint little affair is being made because of several request. Hard to describe verbally, so
we'll leave it to the photos.

Pot: 6 1/2" base, 3 1/4" high. Cup: 2 3/4" base, 2 3/8" high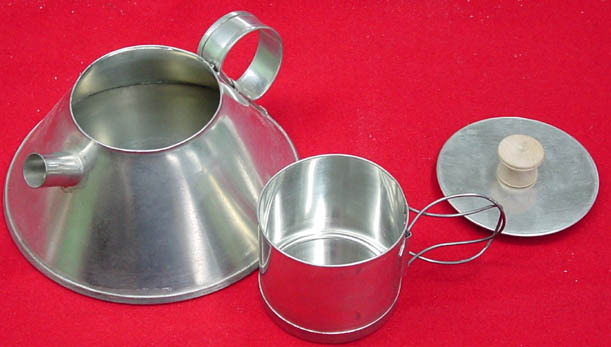 ---
Tin Plates
#424 Tin Plate $15.25
This heavy tin plate is made for service. Not a pie pan but a real plate. These are rather plain, as you might expect.

9 1/2 inches in diameter.
---
#425 CS Tin Plate $16.75
The original of this very sturdy tin plate may be found in the Museum of the Confederacy in Richmond, VA. This does not mean that it is only for Confederate troops, however. It is a good example of a plate of the period. Rings have been hand turned into the outer edge to decorate and give additional strength.

9 1/2 inches in diameter.


---
#RW425 Mess Pan $31.75
Bottom 6" in diameter with a sides angling out to 8" in diameter.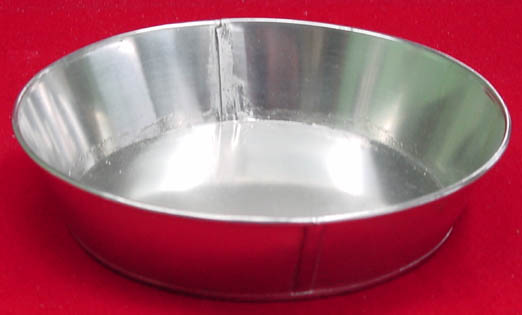 ---
#CH404 Canteen Half 8" diameter $17.50
---
We offer other catalogs:
On line French & Indian,
Revolutionary Period & War of 1812
To place an order ...Click Here!

*Check on the Status of your order HERE.
Phone (662) 287-4977 * Fax (662) 287-6033
Mail or UPS: 518 Wick Street, Corinth, MS 38834

©1997-2011 All Rights Reserved and Owned by C&D Jarnagin Co., Inc.