Mexican war, Civil War Artillery Leather, Tube pouch, Gunners Haversack, Thumb Stall, Vent Cover, Vent Pick, and Pendulum Hausee
---
C & D Jarnagin Company
Artillery Leather
---

Please note the hand stitching done in linen thread and the careful finishing job done on these goods. This fine hand craftsmanship is done by American workers here in our workshops.
---
We are the manufacturer and may not have all items in stock.
---
Other information links of interest.
Leather Preservation Please follow this link for more information on the care and feed of leather.
---
1840-1865: All Artillery Leather Is Russet In Color (stained ) and Properly finished.
For more information on stained finish please follow this link
---
#290 Tube Primer Pouch & Belt Set $169.00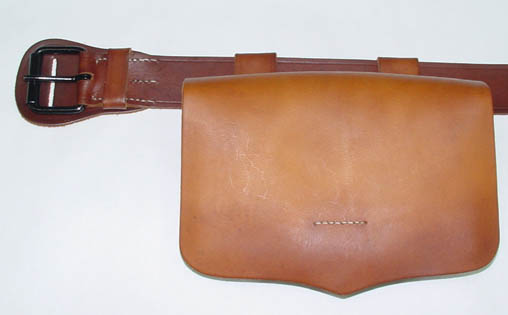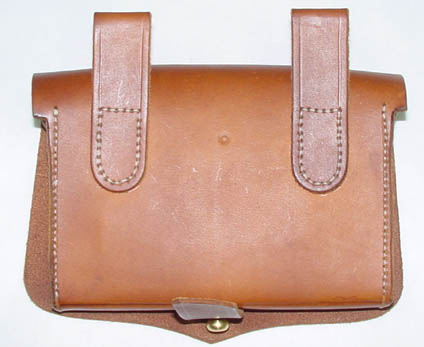 ---
#291 Gunner's Leather Haversack - 4" Wide X 13" Long X 12 1/2" Deep $235.00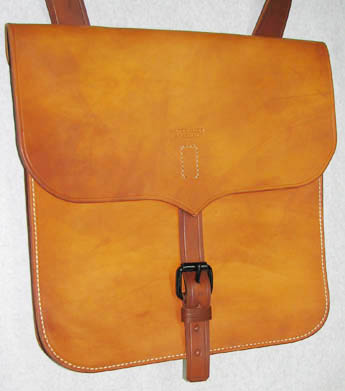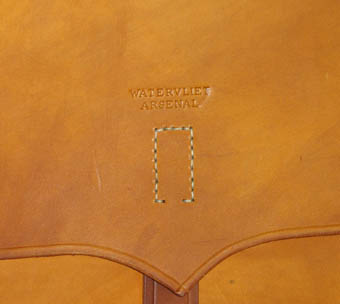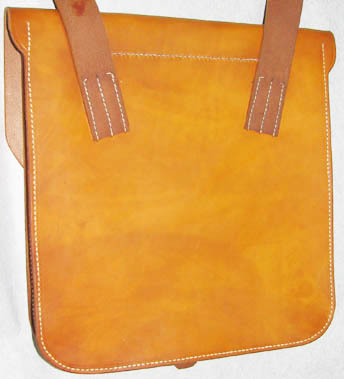 #292 Thumbstall $34.95
These are made from the correct leather. These were not originally made of buff leather as some have thought.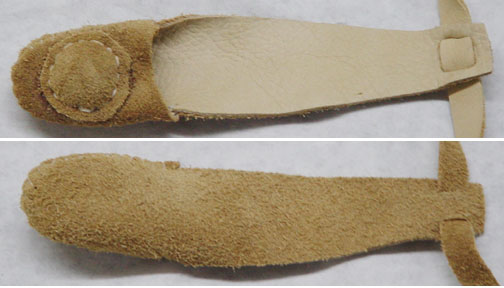 #293 Vent Cover For Field Guns (With Strap) $49.00

#294 Case for Vent Pick (With Sling and Brass Pick) $49.00

#295 Case for Pendulum Hausee Sight (With Sling) - Give Sight Length when ordering $69.00

---
Crown soap- 4oz of soap in a tin container $8.95
We are now offering this period soap for cleaning leather. This is based off a period recipe for soap liked by harness makers. This is not like modern saddle soaps but instead is mostly made from cod oil. This type of soap will clean the leather but not be harsh enough to damage the leather. Leather items should be cleaned with soap several times a year in order to prevent the build up of dirt and other things that will damage the grain surface.
#113 Neatsfoot Oil 8 fl. oz. 100% pure $6.95
#PW124 Preservation Wax $14.95
This is specially designed product to give you maximum life out of your leather items. This is the clear wax, for use on russet items. This wax contains a natural mold and mildew inhibiter, along with protection from insect damage.
Leather Preservation Please follow this link for more information on the care and feed of leather.
---
We offer other catalogs:
On line French & Indian,
Revolutionary Period & War of 1812
To place an order ...Click Here!

*Check on the Status of your order HERE.
Phone (662) 287-4977 * Fax (662) 287-6033
Mail or UPS:518 Wick Street, Corinth, MS 38834

©1997-2018 All Rights Reserved and Owned by C&D Jarnagin Co., Inc.