Civil War, Fork, Knives, Spoon, Tin Can, Musket Cap Tin, dippers, Cork cans, screw top cans
---
C & D Jarnagin Company
The Tin Shop
Utensils and Boxes & Cans
---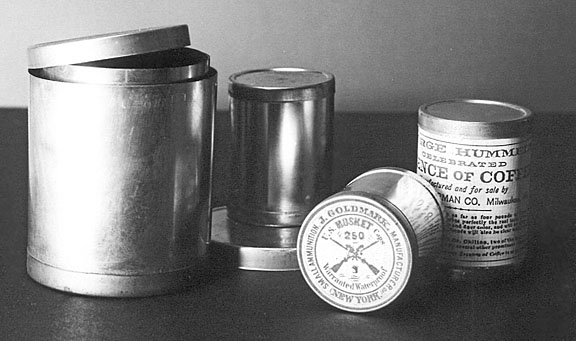 Our tin shop is world-famous for its quality and craftsmanship. In addition to canteens and cartridge box tins, we have a nice variety of other handcrafted products. These items are all hand-made here by experts.

The craft of the tinsmith (or tinker) is fast disappearing. Many of the these items are hand worked, hand soldered, and riveted - true to the tinner's art of the past. We do make the concession of using lead-free solder on the joints of items which may be used for food and drink.

Lead free solder is used for food and drink. Lead free sholder has a lower melting point; therefore, it is important to keep items 1/2 full of liquid when cooking over a campfire.
---
Utensils
#443 19th Century Fork & Knife Set $11.95

This set is made of carbon steel with wooden handles. Hand assembled in pewter mounting. They are copied from originals in our
collection. These high-quality items are quite modestly priced.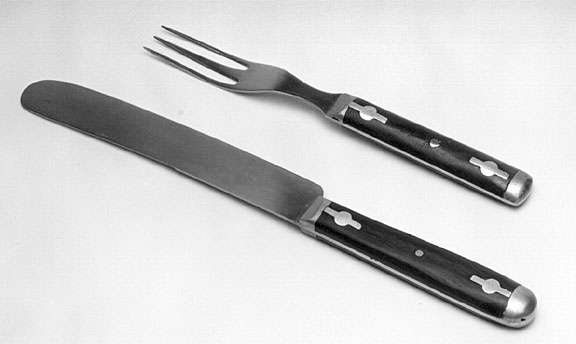 ---
#444 Civil War Army Spoon $5.95
Of the myriad patterns of spoons used during the War, we have chosen this one because it is immediately identifiable. Only the Army would specify a spoon which was made of two parts, the bowl being riveted to the handle and then, the whole thing being tinned. The originals were obtained from a collector who dug them at Grand Junction, Tennessee, where large camps were situated in 1862. The soil here preserves many things in "like-new" condition.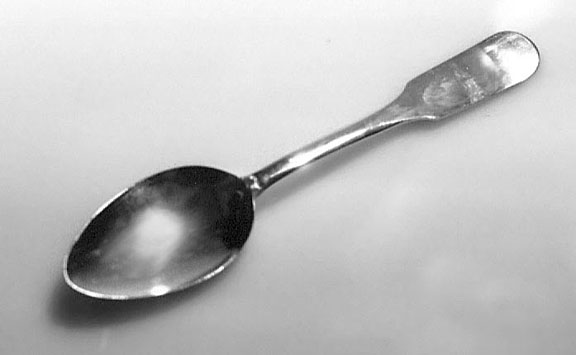 ---
#444TS 19th Century Fork, Knife, & Spoon Set $17.50
Combination of #443 & #444



---
#NI451 Folding Fork, Knife and Spoon Combo $22.95
This is copied from an original in our collection. The fork and knife fold on one end and the spoon on the other. There is an original pictured in Echoes of Glory.
---
#308RW Small Tin Dipper $34.43
We found the original of this dipper on a trip to Kentucky. It was so attractive that a replica was a must. We use ours for 18th Century living history. It has become one of the most valuable cooking tools we have.

Handle is 6" long and ladle is 2 1/2" in diameter.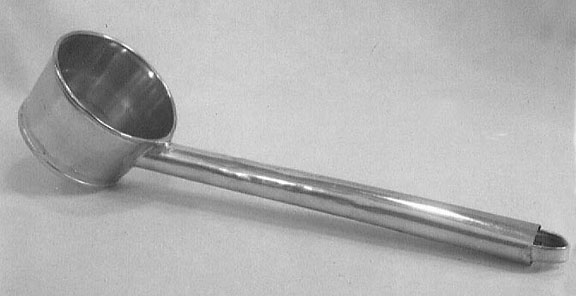 ---
#308RWLG Large Tin Dipper $49.95
As above #308RW, only larger.

Handle is 11 1/2" long and ladle is 4 1/2" in diameter.



---
Tin Boxes and Cans
#442 Round Screw-Top Oil Can $13.84
Your choice of Small (3/4"), Medium (2"), or large (2 3/4").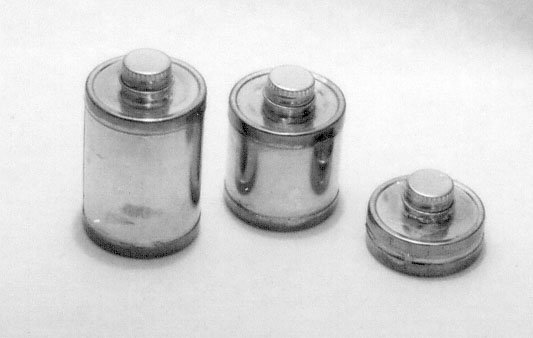 ---
#442RW Round Cork-Top Oil Can $13.84
Your choice of Small (3/4"), Medium (2"), or large (2 3/4").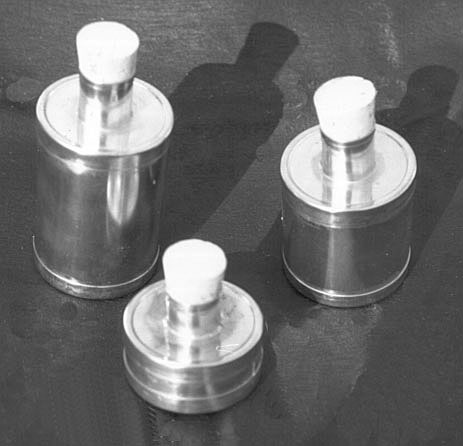 ---
#312RW Oval Tin Box $52.65
This is a box exhibiting 18th century period workmanship. It makes a good box for flint & stricker.

It is 4 1/2" long and 2 1/2" wide with a hinged lid.
---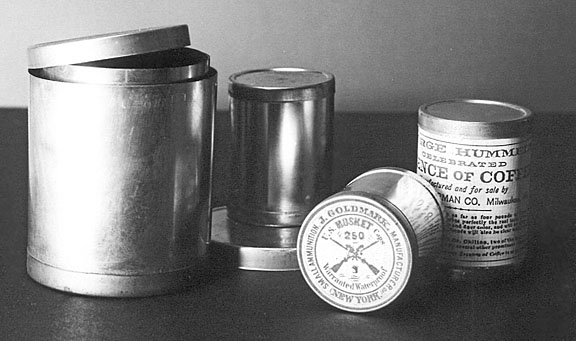 #441 Nesting Tin Cans (Set of Three) $32.00
Three tin cans with one end left so that it may be removed. You may decorate these with period labels. Anyone who have ever used a metal detector in Civil War campsites can attest to the tremendous number of tin cans found. They are suitable for displays. Sized so they nest together for storage.

Large: 3 1/8" in diameter x 3 1/2"high, Mid: 2 1/2" diameter X 3" high, and Small: 2" diameter X 2 1/2" high.
---
#439 Tin Box for Musket Caps (with label) $14.18
From an original tin cap box in our collection. These boxes are for 250 musket caps for military weapons. This is the authentic way to keep your extra caps. The box is furnished with a reproduction label affixed bearing Goldmark Company markings.

2" diameter X 2" tall.

---
#440 Tin Box for "Essence of Coffee" (with label) $14.18
Similar to the Goldmark Cap Box above, but slightly larger, this coffee tin was developed in a cooperation with the Minnesota Historical Society from their originals furnished with label not affixed as the box is a common condiments box of the period.

2"diameter x 2 3/4" tall.


---
We offer other catalogs:
On line French & Indian,
Revolutionary Period & War of 1812
To place an order ...Click Here!

*Check on the Status of your order HERE.
Phone (662) 287-4977 * Fax (662) 287-6033
Mail or UPS: 518 Wick Street, Corinth, MS 38834

©1997-2014 All Rights Reserved and Owned by C&D Jarnagin Co., Inc.