Civil War, money, comb, tooth powder, tooth brushes, shaving, cream, soap, wallet, playing card, and house wife
C & D Jarnagin's Retail items
Personal Items
---
We provide the finest quality, most authentic wares you can buy.
Our Workshops produce a full complement of Military Uniforms and Equipment,
as well as Men's Civilian Clothing.
---
Christmas Items
---
Christmas Stockings for your favorite little or Big soldier on your list
There are many options available in colors and trims.
A one-of a kind stocking can be made for your soldier.
Prices range from $15.00 to $25.00 depending on trims.
---
Soldier's Personal Items
---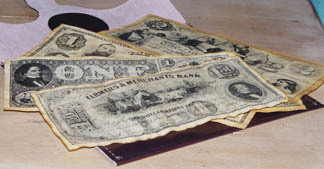 At the beginning of the Civil war, there were two types of money in circulation in the North: the largest part being silver and gold coins, the rest was paper money issued by prominent state banks. In the South, after the "rebel" states were formed, they soon began to issue money from the capital in Montgomery, Alabama in April 1861. The South's defeat resulted in the rapid depreciation of Confederate money.
We offer reproductions of both the North and South paper money.
Money $2.50 plus shipping
#USC US Money set
Confederate Money sets are available as follows:
#CSCA Set "A": $100 VA, $100 MS, $5 SC Cotton planters, $1 NC, $1 AR, $100 GA
#CSCB Set "B": $500 CSA, $100 LA, $5 TX, $2 TN, $1 Fl, $100 AL
#CSCC Set "C": $20 CSA, $10 CSA, $50 CSA, $1 CSA, $5 CSA
#CSCD Set "D": 50 cents GA, 75 cents NC, 10 cents TN, 30 cents VA, 25 cents AL, 15 cents SC, 25 cents FL
---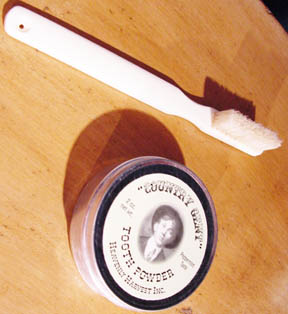 Reproductions of the 1800's toiletry item
#CG730 "Country gent" tooth powder $5.50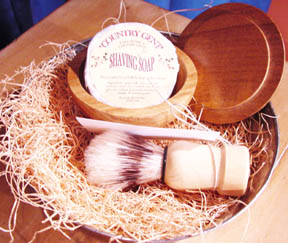 Please note the wooden bowl is no longer available
#CG715 "Country Gent" Shaving Soap $6.00
#CG780TN Shaving Soap with tin $11.00
#CG700 Shaving Brush $10.00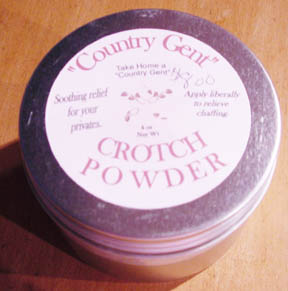 #CG735 "Country Gent" Crotch Powder $8.00
#RP285 Wallet. . . . . . . . . . . . . . .$39.95
We are offering a new pattern of wallet. This one is patterned faithfully from our original. The original is dated 1834. We decided to change to this pattern because modern bills fit very nicely. There is also plenty of room for your credit cards.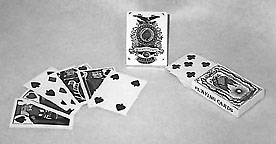 #593 Civil War Playing Cards $10.00
Our playing cards are the finest available. From an original deck in his collection, Mr Robert Moulder of Denver, CO did the color separation and layout work to produce a top-notch deck of period cards. One look at the face cards will bespeak the quality of this item. They have a military motif on the back and the correct faces without numbers. Each card is hand varnished. The deck comes boxed. The Ace of Spades is the Jarnagin Maker card as was common on period decks.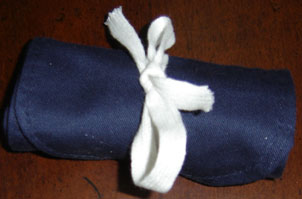 #HW781 House Wife $12.95
These little sewing repair kits soldiers carried were called house wife. In these they carried needles and thread along with extra buttons.
---
Order by phone or email!


We offer other catalogs:
On line French & Indian,
Revolutionary Period & War of 1812
To place an order ...Click Here!

*Check on the Status of your order HERE.
Phone (662) 287-4977 * Fax (662) 287-6033
Mail or UPS: 518 Wick Street, Corinth, MS 38834

©1997-2011 All Rights Reserved and Owned by C&D Jarnagin Co., Inc.