Suspenders, Linen, cotton, ticking, Civil War suspenders.
C & D Jarnagin Company
---
We provide the finest quality, most authentic wares you can buy.
Our Workshops produce a full complement of Military Uniforms and Equipment,
as well as Men's Civilian Clothing.
---
Suspenders
---
#500 Linen Suspenders ...........$23.50
The material used for most all suspenders in the period 1830 through 1870 was linen. Cotton wore too quickly and leather was subject to stretching, cracking and breaking. We produce suspenders of linen with leather ends for buttoning, having brass adjustment buckles. These are plain affairs intended to do an excellent job of holding up your trousers. The intent is that you will appear to be military (or sensible civilian) person of the period.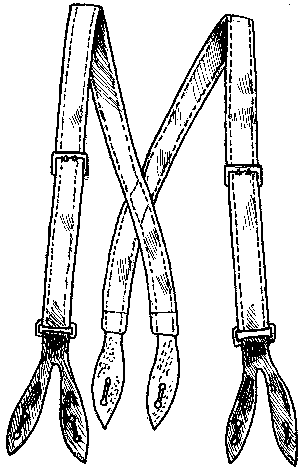 #TK500 Cotton Suspenders
(Blue & White Cotton or Tan & White Cotton)...........$23.50
Made as #500 Linen suspenders but are blue and white stripe pillow ticking.
How to put suspenders together
---
We offer other catalogs:
On line French & Indian,
Revolutionary Period & War of 1812
To place an order ...Click Here!

*Check on the Status of your order HERE.
Phone (662) 287-4977 * Fax (662) 287-6033
Mail or UPS: 518 Wick Street, Corinth, MS 38834

©1997-2011 All Rights Reserved and Owned by C&D Jarnagin Co., Inc.