Mexican War Canteens, tin drum, US embossed, 1840, 1850
C & D Jarnagin Company

---
Canteens
---
Canteen Care
* After each use rinse your canteen with warm water and baking soda. Store your canteen with the cork out. This will help prevent rust and corrosion.
* We have not affixed the canteen strap on drum canteens because many wish to paint their canteen. This will also give you the ability to adjust the strap length according to your needs.
* We recommend that you use only distilled water in your canteen. Tap water contains many minerals that will promote rust rather than prevent it.


---
Mexican War Canteens
#MX401 US Army Mexican War Tin Canteen We are out of side right now so we are no longer taking orders.
Fashioned after the photograph on page 100 in the book The Mexican War, published by Time-Life Books in 1978. This is a tin drum with a convex face containing an embossed "US" in an embossed circle. It has a pewter spout and is furnished with a cork and string stopper and a cloth cotton sling.
Holds approximately 32 oz.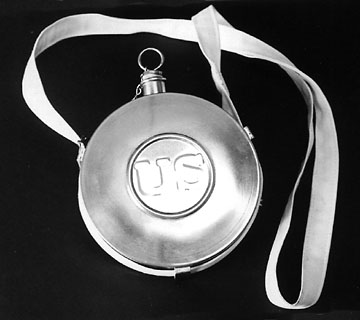 ---
# Mexican War leather sling for the US embossed canteen. $37.50
---
#MX403 Mexican War Tin Drum Canteen $67.50
This 6" tin drum is exactly the same as the Confederate version. We speak about it here because, as Sylvia and O'Donnell note, excavations of Mexican War sites produce quantities of these canteens. It is an old design probably in use it the English Civil War of the 1660's. Furnished with a cork and string and a cloth sling.
Holds approx. 32oz.
---
#412A Wool Cover for the 6"or 8" Round Drum Canteens (These are not sewn on unless you specify that we do so.) $12.00
Your choice of: Sky Blue, Dark Blue, Gray Jean, Brown Jean, Cadet Gray, Confederate Gray, Richmond Gray, Gray Mix, Tuscaloosa Gray, Dark Gray, or Dark Butternut.


---
#412B Leather Strap for the 6" or 8" Round Drum Canteens (Black or Brown) $37.50
The Confederate canteen strap is 3/4" wide and approx. 73" long with a brass harness buckle for adjustment.


---
We offer other catalogs:
On line French & Indian,
Revolutionary Period & War of 1812
To place an order ...Click Here!

*Check on the Status of your order HERE.
Phone (662) 287-4977 * Fax (662) 287-6033
Mail --or -- UPS: 518 Wick Street, Corinth, MS 38834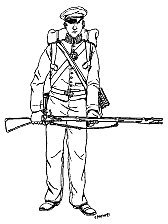 ©1997-2011 All Rights Reserved and Owned by C&D Jarnagin Co., Inc.